The Dell latitude D820 notebook with the Intel High Definition Audio sound card (snd_hda_intel) has only one jack for microphone and line in inputs. The outcome of this feature was, that only the internal microphone input worked on Linux :)
It was a problem for a longer time, there was a possibility improve — to set the position_fix option, but it never worked for me.
Fortunately, I found an excellent guideline for Debian, where this problem is solved :) Let's adopt the instructions for Gentoo.
Firstly, it is necessary to have ALSA modules of version 1.0.13 or newer.
The output should be:
TEXT
Advanced Linux Sound Architecture Driver Version 1.0.13 (Tue Nov 28 14:07:24 2006 UTC).
Add the model=ref option to the /etc/modules.d/snd_hda_intel file:
TEXT
options snd-hda-intel position_fix=1 model=ref
Update the configuration file for modules:
Restart ALSA:
From now, your favourite sound card mixer application (AlsaMixer, KMix, …) should display three options for the Input Source field:
Mic for a microphone connected to the shared input jack.
Front Mic for the internal microphone in you notebook.
Line for a line in input connected to the shared input jack.
A screenshot of my KMix: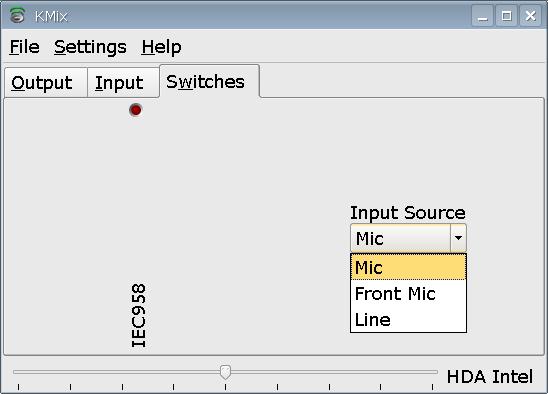 Enjoy :)